Children With Disabilities Express Less Concrete Gender-Based Biases:
Social Development of Gender Perceptions from Preoperational to Formal Operational Stages
Keywords:
children, disability, gender, stereotype
Abstract
Abnormalities with processing social concepts as children may display with Autism Spectrum Disorder (ASD) and Nonverbal learning disorder (NSLD). The purpose of the study was to observe how children with disabilities and nondisabled children viewed gender stereotypes. Images of gender-advertised toys and clothing items were utilized to determine gender-biases held by preschoolers (ages 3-6), upper-elementary level students (ages 10-12), and high school level students (ages 15-18). This project raises awareness of cultural stereotypes in society and their impact on childhood perception development. 177 students were shown images of gender-advertised clothing and entertainment items and asked to categorize each object as a boy, girl, or both. Students with disabilities had less gender bias compared to their nondisabled counterparts. The children in all groups had increased stereotyped responses to clothing items as opposed to toys. The preschoolers displayed the most stereotypical responses, the upper-elementary schoolers responded with the least biased responses as they had gained more exposure to toy and clothing options, and the highschoolers solidified their opinions with moderate stereotypes, notably in clothing items. Presenting increased non-stereotypical opinions, there was a significant difference in gender perception in students with disabilities. The difference in responses to gender perception between students with and without disabilities assimilated in all categories by high school age, meaning there was no significant difference in gender perception by this stage.
References
Brault, M.W. (2010). School-Aged Children With Disabilities in Metropolitan Areas: 2010. United States Census Bureau. Retrieved from https://www.census.gov/library/publications/2011/acs/acsbr10-12.html.
Centers for Disease Control and Prevention. (2020). Disability and Health Overview. Retrieved from https://www.cdc.gov/ncbddd/disabilityandhealth/disability.html.
Davis, J.T.M., Hines, M. How Large Are Gender Differences in Toy Preferences? A Systematic Review and Meta-Analysis of Toy Preference Research. Arch Sex Behav 49, 373–394 (2020). https://doi.org/10.1007/s10508-019-01624-7.
Davis, J. T., Parr, G., & Lan, W. (1997). Differences between learning disability subtypes classified using the revised Woodcock-Johnson psycho-educational battery. Journal of Learning Disabilities, 30(3), 346–352, https://doi.org/10.1177/002221949703000309.
Fagot, B. I. & Leinbach, M. D. (1993). Gender-role development in young children: from discrimination to labeling, developmental review, Volume 13, Issue 2, Pages 205-224, ISSN 0273-2297, https://doi.org/10.1006/drev.1993.1009.
Ferri B. A. & Gregg N. (1998). Women with disabilities: Missing voices. Women's Studies International Forum 21(4): 429--439, https://doi.org/10.1016/S0277-5395(98)00038-7.
Feinberg, R. A., Mataro, L., & Burroughs, W. J. (1992). Clothing and social identity. Clothing & Textiles Research Journal, 11, 18 –23. doi: 10.1177/0887302X9201100103
Fine, C. (2010). Delusions of gender. New York, NY: Norton.
Froschl, et al. (1999). Connecting gender and disability. Equity Resource Center.
Halim, M. L., Ruble, D. N., Tamis-LeMonda, C. S., Zosuls, K. M., Lurye, L. E., & Greulich, F. K. (2014). Pink frilly dresses and the avoidance of all things "girly": children's appearance "1091–1101.
Heise, L., Green M. E., Opper N., et al (2019).M Gender inequality and restrictive gender norms: framing the challenges to health, The Lancet, Volume 393, Issue 10189, Pages 2440-2454, ISSN 0140-6736, https://doi.org/10.1016/S0140-6736(19)30652-X.
Huitt, W., & Hummel, J. (2003). Piaget's Theory of Cognitive Development. Psychology Education Interactive. Valdosta State University. Retrieved August 2020 from http://chiron.valdosta.edu/whuitt/col/cogsys/piaget.html.
Huston, A. C. (1987). The development of sex typing: Themes from recent research. In S. Chess & A. Thomas (Eds.), Annual progress in child psychiatry and child development, 1986 (p. 168–186). Brunner/Mazel. (Reprinted from "Developmental Review," 1985, Vol. 5, 1-17)
Knapp, A. (2019). Social Skills Disabilities in Kids. Albert Knapp and Associates. Retrieved from https://dralbertknapp.com/social-skills-disabilities-in-kids/.
Lee, A. M. (2020). Individuals with Disabilities Education Act (IDEA). The 13 disability categories under IDEA. https://www.understood.org/en/school-learning/special-services/special-education-basics/conditions-covered-under-idea.
Martin, D., Cunningham, S. J., Hutchison, J., Slessor, G., & Smith, K. (2017). How societal stereotypes might form and evolve via cumulative cultural evolution. Social and Personality Psychology Compass, 11(9), e12338.
Mason, E. & Nan H. (). Learning Disabilities, Gender, Sources of Efficacy, Self-Efficacy Beliefs, and Academic Achievement in High School Students, Journal of School Psychology, Volume 41, Issue 2,2003, Pages 101-112, ISSN 0022-4405, https://doi.org/10.1016/S0022-4405(03)00028-1.
Matthews, N. L., & Goldberg, W. A. (2018). Theory of mind in children with and without autism spectrum disorder: Associations with the sibling constellation. Autism, 22(3), 311–321. https://doi.org/10.1177/1362361316674438.
Meltzoff A. N. (1999). Origins of theory of mind, cognition and communication. Journal of communication disorders, 32(4), 251–269. https://doi.org/10.1016/s0021-9924(99)00009-x.
Miller, C., Lurye, L. & et al (2009). Accessibility of Gender Stereotype Domains: Developmental and Gender Differences in Children. Sex roles. 60. 870-881. 10.1007/s11199-009-9584-x.
Müller, E., Schuler, A., & Yates, G. B. (2008). Social challenges and supports from the perspective of individuals with Asperger syndrome and other autism spectrum disabilities. Autism, 12(2), 173–190. https://doi.org/10.1177/1362361307086664.
Ocr. (2015). 513-Does the HIPAA Privacy Rule apply to an elementary or secondary school. Retrieved from https://www.hhs.gov/hipaa/for-professionals/faq/513/d oes-hipaa-apply-to-an-elementary-school/index.html.
Orenstein, P. (2010). Cinderella ate my daughter. New York, NY: Harper
Padawar, R. (2012). What's so bad about a boy who wants to wear a dress?. New York Times Magazine.
Peterson, S.B., & Lach, M.A. (1990). Gender Stereotypes in Children's Books: Their Prevalence and Influence on Cognitive and Affective Development. Gender and Education, 2, 185-197.
Piaget, J. (1972). The psychology of intelligence. Totowa, NJ: Littlefield.
Ruble D. N., Taylor L. J., Cyphers L., Greulich F. K., Lurye L. E., Shrout P. E. (2007). The role of gender constancy in early gender development. Child Dev. 78 1121–1136. 10.1111/j.1467-8624.2007.01056.x
"How Harmful Gender Norms Create an Unequal World for Children." Save the Children. https://www.savethechildren.org/us/charity-stories/how-gender-norms-impact-boys-and-girls.
Smogorzewska J., Szumski G., & Grygiel P. (2018). Same or different? Theory of mind among children with and without disabilities. PLoS ONE 13(10): e0202553. https://doi.org/10.1371/journal.pone.0202553.
Understood (2020). Understanding Your Child's Trouble With Social Skills. https://www.understood.org/en/learning-thinking-differences/child-learning-disabilities/social-skills-issues/understanding-childs-trouble-with-social-skills.
World Health Organization [and] The World Bank (2011). World report on disability. Geneva, Switzerland: World Health Organization, 52-57.
United Nations (2018). UN Flagship Report on Disability and Sustainable Development Goals Enable, 46-51. Retrieved from https://www.un.org/development/desa/disabilities/publication-disability-sdgs.html.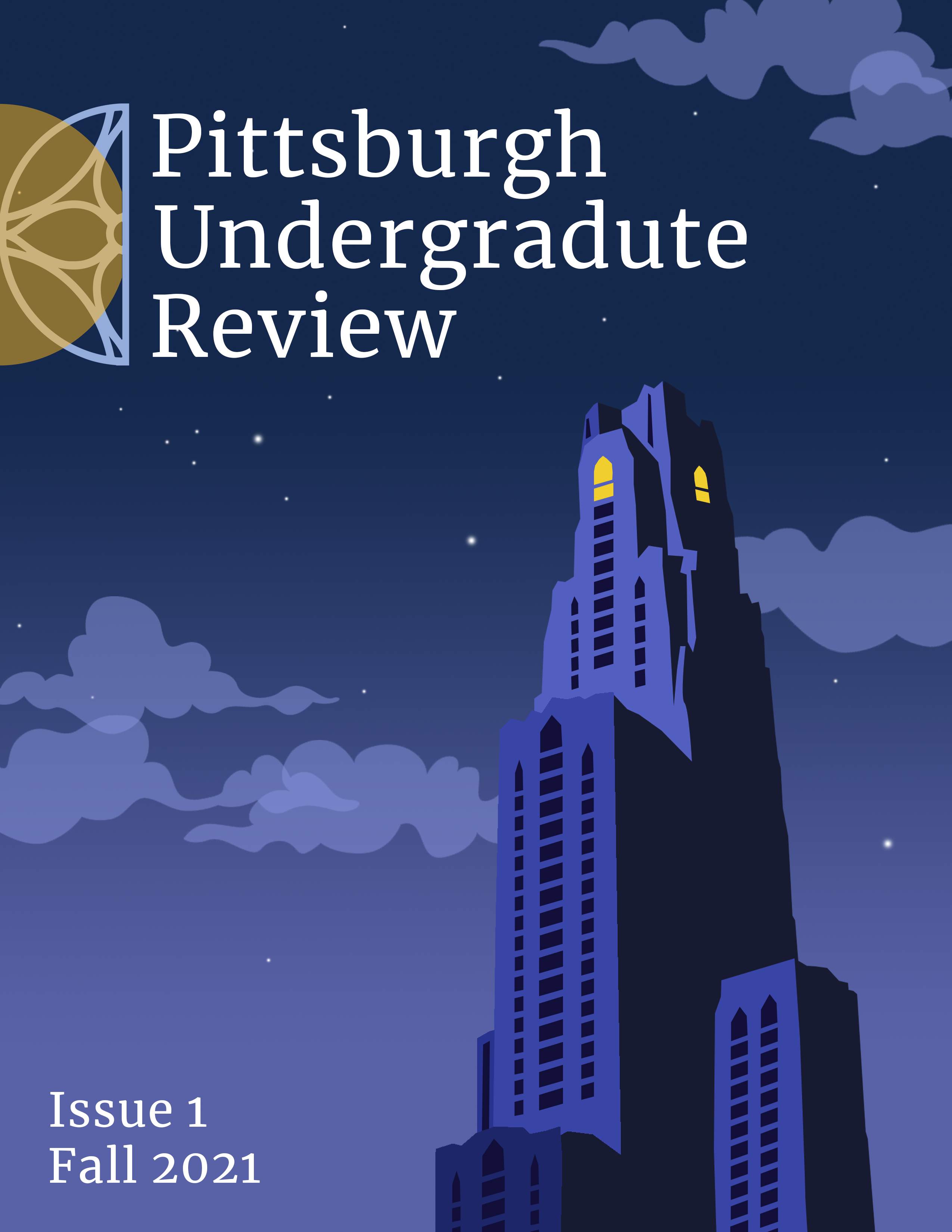 How to Cite
Haertter, J. (2021). Children With Disabilities Express Less Concrete Gender-Based Biases:: Social Development of Gender Perceptions from Preoperational to Formal Operational Stages. Pittsburgh Undergraduate Review, 1(1). https://doi.org/10.5195/pur.2021.16
License
Authors who publish with this journal agree to the following terms:
The Author retains copyright in the Work, where the term "Work" shall include all digital objects that may result in subsequent electronic publication or distribution.
Upon acceptance of the Work, the author shall grant to the Publisher the right of first publication of the Work.
The Author shall grant to the Publisher and its agents the nonexclusive perpetual right and license to publish, archive, and make accessible the Work in whole or in part in all forms of media now or hereafter known under a Creative Commons Attribution 4.0 International License or its equivalent, which, for the avoidance of doubt, allows others to copy, distribute, and transmit the Work under the following conditions:

Attribution—other users must attribute the Work in the manner specified by the author as indicated on the journal Web site;

with the understanding that the above condition can be waived with permission from the Author and that where the Work or any of its elements is in the public domain under applicable law, that status is in no way affected by the license.
The Author is able to enter into separate, additional contractual arrangements for the nonexclusive distribution of the journal's published version of the Work (e.g., post it to an institutional repository or publish it in a book), as long as there is provided in the document an acknowledgement of its initial publication in this journal.
Authors are permitted and encouraged to post online a prepublication manuscript (but not the Publisher's final formatted PDF version of the Work) in institutional repositories or on their Websites prior to and during the submission process, as it can lead to productive exchanges, as well as earlier and greater citation of published work. Any such posting made before acceptance and publication of the Work shall be updated upon publication to include a reference to the Publisher-assigned DOI (Digital Object Identifier) and a link to the online abstract for the final published Work in the Journal.
Upon Publisher's request, the Author agrees to furnish promptly to Publisher, at the Author's own expense, written evidence of the permissions, licenses, and consents for use of third-party material included within the Work, except as determined by Publisher to be covered by the principles of Fair Use.
The Author represents and warrants that:

the Work is the Author's original work;
the Author has not transferred, and will not transfer, exclusive rights in the Work to any third party;
the Work is not pending review or under consideration by another publisher;
the Work has not previously been published;
the Work contains no misrepresentation or infringement of the Work or property of other authors or third parties; and
the Work contains no libel, invasion of privacy, or other unlawful matter.

The Author agrees to indemnify and hold Publisher harmless from Author's breach of the representations and warranties contained in Paragraph 6 above, as well as any claim or proceeding relating to Publisher's use and publication of any content contained in the Work, including third-party content.
The Author agrees to digitally sign the Publisher's final formatted PDF version of the Work.