Situating Music and Solidarity Within the Yoeme Water Struggle
Abstract
The role of music as a tool for promoting political and community solidarity is determined, at least in part, by the stakes. For Indigenous communities facing state repression, cultural survival goes hand in hand with physical survival. How might attitudes toward the role of music have an effect on the Yoemem's water struggle? Acueducto Independencia is a 155 kilometer long aqueduct which began transporting 75 million cubic meters of water per year from the Rio Yaqui to the city of Hermosillo in 2013. The aqueduct breaks a 1937 treaty guaranteeing the Indigenous Yoeme (Yaqui) 50% of the Rio Yaqui's water. The fact that many Yoemem do not have access to sufficient amounts of non-pesticide laced water for drinking, agriculture, or other everyday needs affects health and way of life and is tantamount to an ongoing structural genocide. Many perceive this ongoing threat to their livelihood as a form of low-intensity warfare considering the violent history between the Yoeme, Mexican government and state officials (Personal communication, April 7, 2021). The Yoemem have called upon others to support their fight for basic human rights, cultural and political sovereignty, and environmental justice. This call-to-action has resulted in music becoming a space for promoting Indigenous solidarity–in part. Indeed, the use of music has arguably become widespread recently in environmental justice movements around the globe. This article will explore how music is posed as a form of Indigenous solidarity within the context of the environmental justice movement.
References
Admin. (2014, May 9). El Aceuducto Independencia amenaza le sobrevivencia del pueblo yaqui. CEMDA.
https://www.cemda.org.mx/el-acueducto-independencia-amenaza-la-sobrevivencia-del-pueblo-yaqui/

Attali, Jacques. (1985). Noise: The Political Economy of Music. U of Minnesota.

Barreras, C. K. [Cesar Katatui Barreras]. (2020, August 11). We are Yo'eme: lesson 1, why we call ourselves
Yo'eme. #Yaqui Language #Yoeme Language. Retrieved from https://www.youtube.com/watch?v=hnP7lsiSp5I

Barson, B. (n.d.). With the Yaqui Water Protectors: A Music Campaign. Indiegogo.
https://www.indiegogo.com/projects/with-the-yaqui-water-protectors-a-music-campaign#/

Brown, Courtney. (2008). Politics in Music. Atlanta Farsight Press.

Carlos Silva Encinas, Manuel. (2014, December 15). Facebook post. Video.
https://www.facebook.com/manuelcarloss/videos/10205439443803938/

Clark, Joe C. (2011). The Garland Encyclopedia of World Music Online. Notes, 67(4), 798–800.
https://doi.org/10.1353/not.2011.0075

Cocking, L. (2017, February 9). The Mexican 'Standing Rock' That Nobody's Talking About. Culture trip.
https://theculturetrip.com/north-america/mexico/articles/the-mexican-standing-rock-that-nobodys-talking-about/

Davies, J. (2013, September 9). Mexico: The Yaqui Tribe Defend their Right to Water. Upside-down World.
https://upsidedownworld.org/archives/mexico/mexico-the-yaqui-tribe-defend-their-right-to-water/

Dirksen, R. (2019). Facing Loss of the Sacred. University of Illinois Press on behalf of Society for
Ethnomusicology, Vol. 63, No. 1, pp. 43-77. https://www.jstor.org/stable/10.5406/ethnomusicology.63.1.0043

Evers, L. (1978). Seyewailo: The flower world Yaqui Deer Songs. University of Arizona.
https://parentseyes.arizona.edu/node/885

Farisco and Caballero Societies. (1941-42). The Yaqui Easter Ceremony. VHS videotape 1989 uploaded to
Youtube. https://www.youtube.com/watch?v=9Mavi3IdPUI

Garcia, C. (n.d.). Baa Wehai (Yoeme/Yaqui)-floating gourd water drums. Indigenous Instruments of
Mexico and Mesoamerica. https://indigenousinstrumentsofmexicomesoamerica.weebly.com/baa-wehai.html

Hainge, Greg. (2004). Come on Feel the Noise: Technology and its Dysfunctions in the Music of
Sensation. To the Quick (5) 42-58.

Huerta, Diego. (2019, February 10). Maso Jiaki - Venado Yaqui. Diego Huerta Photographer. Facebook.
https://www.facebook.com/watch/?ref=search&v=392662078214035&external_log_id=56a0a6ba-da37-4ced-b9a8-7dec2d111a31&q=protesta%20yaqui

Irland, B. (2015, June 1). What the River Knows: Yaqui River, Sonora, Mexico. National Geographic Society
Newsroom. https://blog.nationalgeographic.org/2015/06/01/what-the-river-knows-yaqui-river-sonora-mexico/

Lee Productions. (2012). Felipe Molina / Yaqui (Yeome) from Tucson, Arizona. Oyate Ta Olowan.
http://www.oyate.com/felipe-molina---yeome-yaqui.html

Leza, C. (2018, December 17). Hip-Hop is Resistance: Indigeneity on the U.S.-Mexico Border. Music and
Modernity Among First People of North America by Victoria Lindsay Levine, and Dylan Robinson. Wesleyan University Press.

Leza, C. (2015). The Divided Yoeme (Yaqui) People. Wicazo Sa Review. Vol. 30, No. 2, pp.5-27.
https://www.jstor.org/stable/10.5749/wicazosareview.30.2.0005

Manabe, Noriko. The Revolution Will Not Be Televised : Protest Music after Fukushima, Oxford University
Press USA - OSO, 2015. ProQuest Ebook Central, http://ebookcentral.proquest.com/lib/pitt-ebooks/detail.action?docID=4310913

Music Festival Wizard. (2016). Vive Latino 2016.
https://www.musicfestivalwizard.com/festivals/vive-latino-2016/

Native Voice TV. (n.d.). Home. https://www.youtube.com/c/NativevoicetvOrg/featured

Nava, Michael. The City of Palaces: A Novel. Madison: University of Wisconsin Press, 2014. Print.

Pedro Ros, Sergi. (2016). CAFE TACVBA y Tribu Yaqui Vive Latino 2016 #TribuYaquienDefensadelAgua? Vive
Latino 2016. Youtube. https://www.youtube.com/watch?v=-Lr7jEC5bSg

Personal Communication, April 7, 2021, Ben Barson.

Quintana, T.G. (2020). Where There is Water There is Growth: Yoeme Land and Water Rights. Theory &
Event 23(4), 1004-1015. https://www.muse.jhu.edu/article/767878.

Shorter, D. (2009). We will dance our truth: Yaqui history in Yoeme performances. Retrieved from
https://hdl-handle-net.pitt.idm.oclc.org/2027/heb.31426

Sinchi. (2018, April 28). Inside the flower world of the Yaqui deer dance. Where Indigenous and Christian
spirituality go hand in hand. Sinchi.
https://sinchi-foundation.com/news/flower-world-yaqui-deer-dance-spirituality/

Tumbaga, Ariel Zatarain. Yaqui Indigeneity : Epistemology, Diaspora, and the Construction of Yoeme
Identity, University of Arizona Press, 2018. ProQuest Ebook Central, https://ebookcentral.proquest.com/lib/pitt-ebooks/detail.action?docID=5234329.

Tyner, J. A., Rhodes, M., & Kimsroy, S. (2015). Music, Nature, Power, and Place: An Ecomusicology of Khmer Rouge Songs. GeoHumanities. https://doi.org/10.1080/2373566X.2016.1183464

United Nations. (2008, March). United Nations Declaration on the Rights of Indigenous Peoples.
Resolution adopted by the General Assembly. United Nations.

Wolfe, Patrick. (2006). Settler Colonialism and the elimination of the native. Journal of Genocide
Research, 8: 4, 387-409.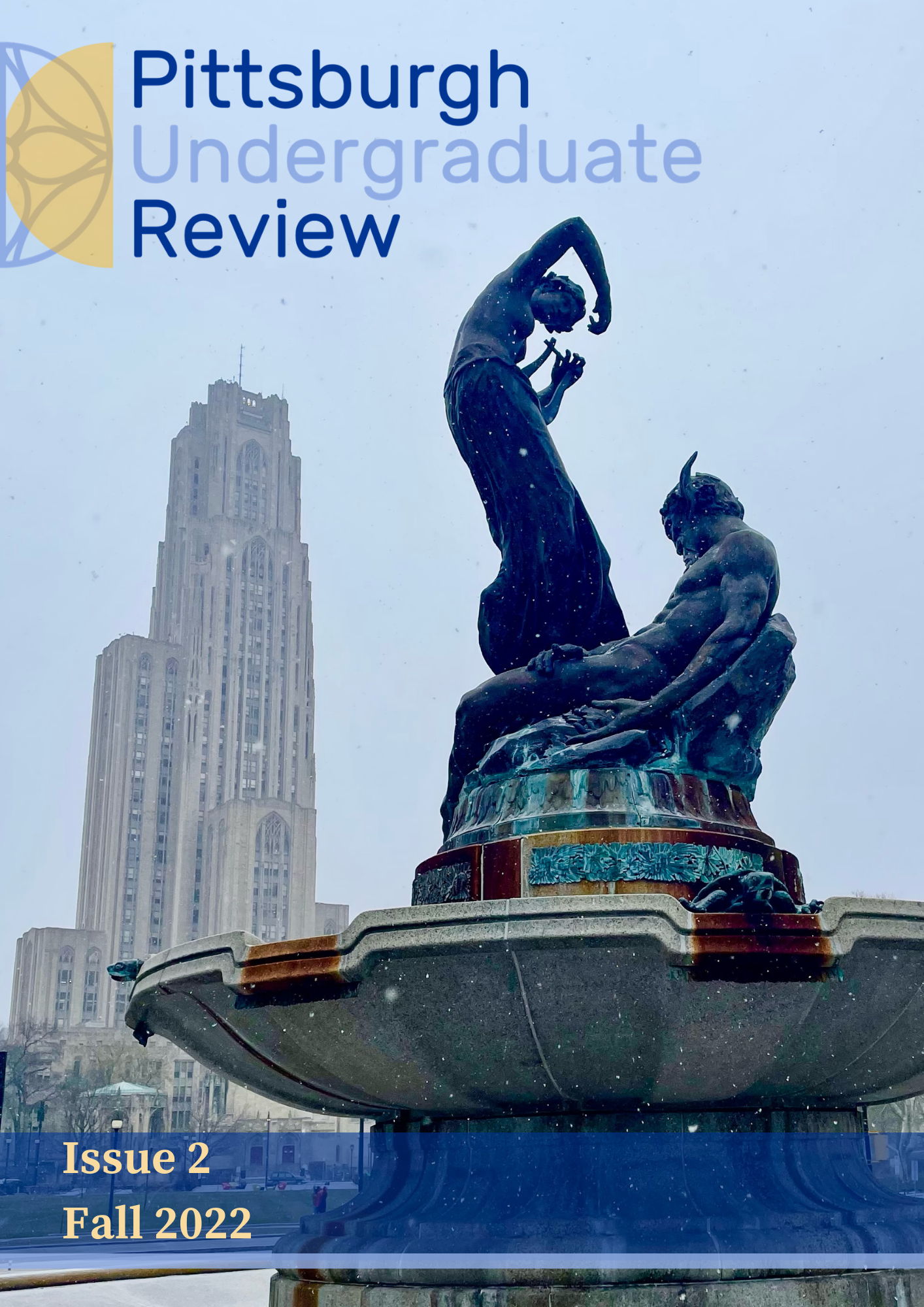 Additional Files
How to Cite
Jimenez, S. (2022). Situating Music and Solidarity Within the Yoeme Water Struggle. Pittsburgh Undergraduate Review, 2(1). https://doi.org/10.5195/pur.2022.32
License
Copyright (c) 2022 Stephanie Jimenez
This work is licensed under a Creative Commons Attribution 4.0 International License.
Authors who publish with this journal agree to the following terms:
The Author retains copyright in the Work, where the term "Work" shall include all digital objects that may result in subsequent electronic publication or distribution.
Upon acceptance of the Work, the author shall grant to the Publisher the right of first publication of the Work.
The Author shall grant to the Publisher and its agents the nonexclusive perpetual right and license to publish, archive, and make accessible the Work in whole or in part in all forms of media now or hereafter known under a Creative Commons Attribution 4.0 International License or its equivalent, which, for the avoidance of doubt, allows others to copy, distribute, and transmit the Work under the following conditions:

Attribution—other users must attribute the Work in the manner specified by the author as indicated on the journal Web site;

with the understanding that the above condition can be waived with permission from the Author and that where the Work or any of its elements is in the public domain under applicable law, that status is in no way affected by the license.
The Author is able to enter into separate, additional contractual arrangements for the nonexclusive distribution of the journal's published version of the Work (e.g., post it to an institutional repository or publish it in a book), as long as there is provided in the document an acknowledgement of its initial publication in this journal.
Authors are permitted and encouraged to post online a prepublication manuscript (but not the Publisher's final formatted PDF version of the Work) in institutional repositories or on their Websites prior to and during the submission process, as it can lead to productive exchanges, as well as earlier and greater citation of published work. Any such posting made before acceptance and publication of the Work shall be updated upon publication to include a reference to the Publisher-assigned DOI (Digital Object Identifier) and a link to the online abstract for the final published Work in the Journal.
Upon Publisher's request, the Author agrees to furnish promptly to Publisher, at the Author's own expense, written evidence of the permissions, licenses, and consents for use of third-party material included within the Work, except as determined by Publisher to be covered by the principles of Fair Use.
The Author represents and warrants that:

the Work is the Author's original work;
the Author has not transferred, and will not transfer, exclusive rights in the Work to any third party;
the Work is not pending review or under consideration by another publisher;
the Work has not previously been published;
the Work contains no misrepresentation or infringement of the Work or property of other authors or third parties; and
the Work contains no libel, invasion of privacy, or other unlawful matter.

The Author agrees to indemnify and hold Publisher harmless from Author's breach of the representations and warranties contained in Paragraph 6 above, as well as any claim or proceeding relating to Publisher's use and publication of any content contained in the Work, including third-party content.
The Author agrees to digitally sign the Publisher's final formatted PDF version of the Work.